Projects In Progress
Midfield Wetlands Walk (2016 – present)
Location: 134 Conway Avenue north along community path to 6700 Midfield Road
Objective: Remove invasive plant species from wetlands, meadow and upland forest area following the Midfield Road paper street community path from Conway Ave north to Sir Oliver Road. The Project's focus areas include:
1) Shoreline removal of invasive non-native Common Reed (Phragmites australis) from the path area along Conway, Dumont and Elwood Avenue shoreline – replanting with native grasses and shrubs to improve the health of the wetlands, enhance the wildlife habitat and increase plant diversity.
2) Removal of invasive shrubs and vines from the Elwood Meadow, and replanting with native grasses, wildflowers, shrubs and trees, to stabilize the meadow area and shoreline and further enhance wildlife and plant species diversity.
3) Removal of invasive trees, shrubs and vines, and ultimately, to modify failing existing hardscape shoreline to natural shoreline in the Fayton Ave/ Sir Oliver Road upland forest area to stabilize wooded shoreline and forest area, renew growth of native species, expand species diversity, and enhance wildlife habitat.
Summary: Ongoing project began in early 2016, and is on an estimated 3 to 5 year timeline
To date, over 10,000 square feet of phragmites has been removed and cleared from a total targeted area of 12,000 square feet. Over 2500 plugs of a variety of native grasses and plants have been replanted along the wetlands shoreline and in the meadow area. Spring 2018 plantings included 50 native flowering plants contributed by a Lafayette Wetlands Partnership member. Additional plantings are planned for fall 2018 and spring 2019.
With Norfolk City support, the project has planted an additional 30 native shrubs and 9 native trees in the wetland and meadow areas of the Wetlands Walk.
Educational signage is planned to explain the environmental benefits of the native species planted.
Approximately 400 volunteer hours have been contributed to date during 11 work events.
Partners:
Financial support from LWP, Cromwell Farm/ Ellsworth Civic League and residents, and Chesapeake Bay Restoration Fund. Total planned budget for wetlands restoration portion of this project is $4,800.
Shrubs and trees donated by the City of Norfolk.
Flowering plants donated by a private citizen, Member of Lafayette Wetlands Partnership.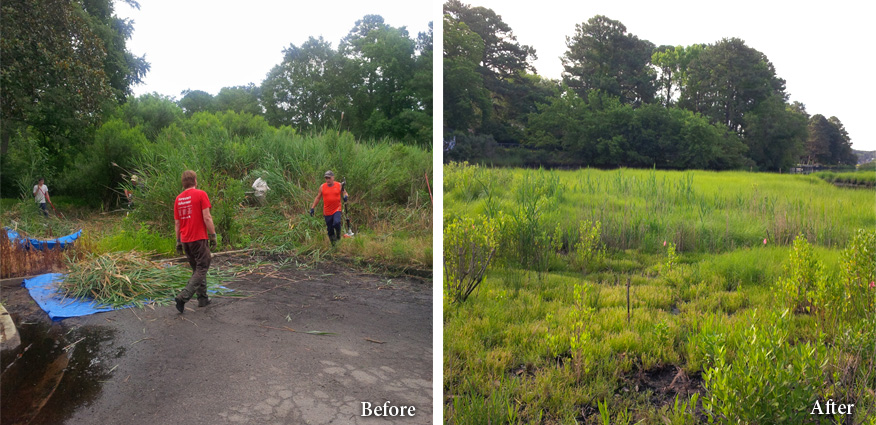 Granby Willow Wood Park Shoreline Restoration (2017 – present)
Location: Public greenspace at the corner of Granby St and Willow Wood Drive bridge
Objective: Restore an eroded shoreline and install native plants to reduce erosion from rain water runoff
Status:
LWP, in partnership with the City of Norfolk, has developed a plan to restore specific sections using the living shoreline technique of bio-logs, sand backfill and replanting with native grasses.
Preliminary work at the site has already been conducted:
LWP has conducted three shoreline clean-up events (May 2017, Jan 2018, and March 2018).
The City has done extensive survey work at the site (Jan 2018) to inform planning efforts.
The City has done extensive tree trimming (Feb 2018) along approximately 200 feet of the shoreline, to remove low overhanging limbs that were shading out the existing marsh.
The City (RPOS), with participation of Master Gardeners, has initiated planning for a landscaped area in the central upland area, intended to slow down and filter storm water runoff (not part of this permit application).
A Joint Permit Application for the living shoreline design has been submitted to the permitting agencies for review and approval.